Why start a Hot Sauce company? To help answer that question, here's my 30 second autobiography. I was born in Manhattan in 1979, and grew up in Oradell, New Jersey and Greenport, Long Island. I'm half Italian, half Croatian, and I have a younger sister.
I was in the restaurant business throughout high school working my way from busboy at White Beaches Country Club to server at The Coach House Diner. I moved to Boston for College in 1997 and stayed in the restaurant business, making my way to Bartender at Grendel's Den.
I entered the Beer Business 1 week after graduating college, working for the Boston Beer Company for 17 years. My career eventually moved me to Portsmouth, NH in 2007 where I managed the company's Northern New England business.
After marrying and having a daughter, as a business necessity, I left the Beer Biz to run our family wedding venue in Norway, Maine that we had started in 2014, Granite Ridge Estate & Barn. But something was missing, I needed to turn up the heat...
How did I become so spicy?
Well, actually from an early age. I credit my mom for introducing our family to an eclectic array of cuisines from as far back as I can remember, including Thai, Indian, and Japanese, all before the age of 10. The house rule was you didn't have to like it, but you had to try it. I tried it, and I liked it…all of it. The spicier the better.
I went to high school in North Jersey, and was exposed to a wide variety of ethnic cuisine. A large portion of my immediate friend group were Indian. I became accustomed to the smell of curry, and addicted to the heat.
Some other signs that spice would become my way of life: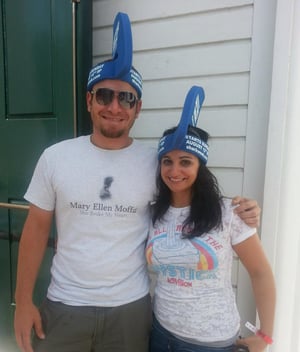 Because of hot sauce, I knew I would marry my wife on our 3rd date, and I was right. I took Jill to my favorite seafood spot, Petey's in Rye NH, and we both started with a cup of New England Clam Chowder. But our waitress left the table too quickly to hear me call for her. "What's the matter?" asked Jill. "I was going to ask her for some hot sauce for the chowder," I responded. And then, from of her purse, she pulled out a bottle of Tabasco. I was in love.
Aside from saving the soup, spice has been a way of Jill's life too, and it's really special for your wife to be a fellow Chili Head. Her Twitter handle has been @spicylegume for years. We soon created our house drink, the "Fire & Ice Margarita," which included our fresh garden Habaneros soaked in 100% Agave Tequila.
Trips back home to the North Fork of Long Island became much more exciting when Hot Sauce Specialty Store, Greenport Fire, opened in 2010. Like kids in a candy shop, we would always check out the newest additions to their collection. I pushed the Capsaicin limits a few times, but luckily was bailed out by the bottle of whipped cream they keep behind the counter. And a seed was planted.
why start a Hot Sauce Company?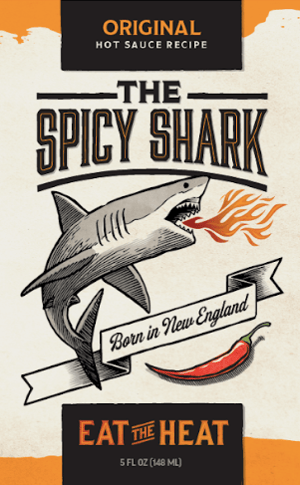 Well…lotsa reasons! So first, as I've been trying to explain, I love hot sauce and all things spicy! And I'm a firm believer that doing what you love is a key component to inner happiness. I love my adopted home of New England, and want to put us on the map as a Spicy Region!
I want people to experience great hot sauce. Unless you go to a really diverse grocery store, or a specialty store, you don't get to see many options for delicious hot sauces, and other spicy condiments & foods. I certainly enjoy many of the well established brands, but variety is the spice of life! I want to bring incredible, unique craft products to the market that draw attention to the ingredients, as well as both the taste and health benefits of hot peppers. I also want to push the boundaries of experiencing great heat, so our initial launch includes a Sriracha, Wing Sauce, Hot Honey, and two Hot Maple Syrups, in addition to five Hot Sauces.
WHY call it 'the spicy shark'?
Once I saw Jaws as a kid, I was hooked as a shark addict, but because of awe, respect, and curiosity, not fear. Although, I can't pretend I wasn't nervous the first time I swam with a Great Hammerhead Shark off the Island of Eleuthera in the Bahamas (Spoiler Alert - I survived).
I gave my daughter the middle name 'Ellen" as a tribute to the lead female character in Jaws, Ellen Brody....so yes, I'm into Jaws and Sharks. Things changed for me when I went to JawsFest on Martha's Vineyard in 2012. I was able to meet Wendy Benchley, the wife of the late author of Jaws, Peter Benchley. I learned about her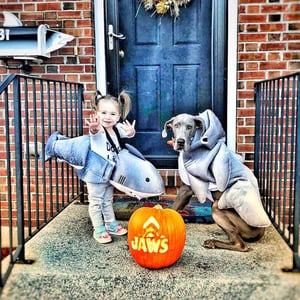 organization, Shark Savers, and the horrific destruction our ocean's sharks were experiencing. In recent years, I have become most passionate about helping end the cruel and unsustainable practice of shark-finning. As a shark enthusiast, I am drawing attention on our website to the wonderful shark non-profits that are making the ocean a better place for its sharks. We are excited to work with many of them, and thus far have partnered with The Shark Stewards, and Save The Sharks, to help in the battle to end shark-finning, and eliminating shark meat on menus.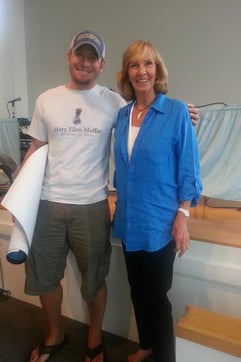 We believe the key to success in this cause is providing an educational, positive, and fun experience, and have loved our early conversations with the wonderful organization Sharks4Kids.
We'll be selling our products online on our website, shop.thespicyshark.com, through a growing distributor network in the Northeast, as well as an array of events and festivals throughout the country. I hope to see you! We want you to know about, and enjoy Spice & Sharks as much as us!