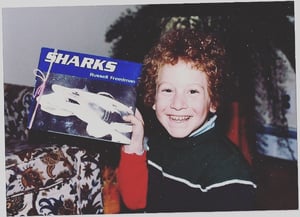 Of any of the gifts I've received in my life, the ones I remember the most are shark-related. I have a ton of gift ideas for shark lovers. Because, whether receiving a shark book as a child, a shark tooth fossil necklace as a teenager, or a signed Jaws movie poster as an adult, I was ecstatic about all of them! I guess that's how I knew I was always a sharky guy.
When I went to Jawsfest on Martha's Vineyard (aka: Amity Island) in 2012, I had the pleasure of meeting the late Peter Benchley's (author of Jaws) wife, Wendy Benchley. She had started a non-profit called Shark Savers in Peter's honor. After speaking with her at length, my eyes were opened to the dire need for shark conservation due to the the massive destruction happening to our misunderstood aquatic friends, and their environment.
I became involved with a variety of Shark non-profits in my personal life, which became the precipice for the name of my hot sauce company I launched in 2018, The Spicy Shark. Here are some gift ideas to not only make your sharky friends feel loved with a Jawesome present, but also to help some real sharks at the same time.
Respect the Fin's OG Hat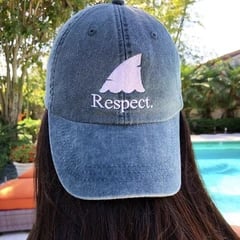 I love sporting this hat around town while doing Spicy Shark things. I met the founders of Respect The Fin at Shark-Con Summer of 2019. I know first hand about their deep respect and love of sharks. They are shark people through and through. I spoke to Respect The Fin's founder, Shira Margulies, and asked her to tell us more about this hat and their work with sharks.
"This hat features a shark fin on the front with the word "Respect." below it. This image perfectly sums up our brand's mission to spread love and awareness for our oceans most vital predators - sharks!
Nearly 100 million sharks are killed every single year, and there are no signs of this slowing. If sharks disappear, the ecosystem that has been built over millions of years will disappear along with it. We must learn to respect them and their vital role, or we will watch as the ocean we know and love falls into disarray.
A portion from every purchase is donated to the jawesome non-profit Sharks4Kids! The goal of Sharks4Kids is to create a new generation of shark advocates through access to a dynamic range of educational materials."
Check out this hat right here.
Sharktopia's Hand Painted Shark Pendant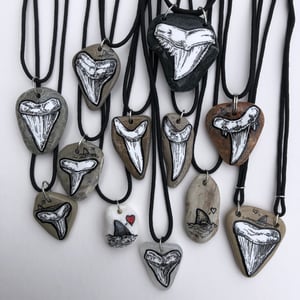 From our shark loving friends at Sharktopia, hand painted and one of a kind shark tooth pendants. Each stone is hand-picked from Lake Michigan and two of the stones in this photo are fossils!
We asked our friend Caitlin to tell us more about her pendants and her work:
"100% cruelty-free; zero sharks harmed in the creation of these shark teeth necklaces! Each tiny painting is a labor of love. Regardless of the time required to finished these unique pendants, I keep the price as budget-friendly as possible.
I've donated to a lot of non-profits over the years; including working alongside them. Some of those wonderful organizations have teamed up with me to create free coloring pages and activity sheets. Sharks4Kids, Shark Guardian, One Ocean Diving Research/Conservation, and Mao Mana Foundation are a few of those amazing organizations. I've also teamed up with "Lexy the Elderbull" to create the artwork for non-profit campaigns (we've done two together)."
Shop these and all originals here.
Atlantic White Shark Conservancy Shark Smart Kids T-Shirt
As a New Englander, we've been big fans of the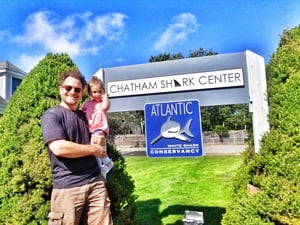 Atlantic White Shark Conservancy for some time, and I'm proud to sport one of their "Respect the Locals" shark stickers on the back of my truck.
Cynthia and her team have done such a wonderful job supporting shark conservation through their continuing educational programs. Whenever we journey a couple hours south from NH to Cape Cod, we always make a point to visit their retail store in North Chatham, MA.
We asked AWSC to tell us a little bit more about their work and this cool t-shirt: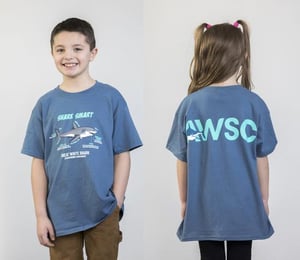 "Sharks are awesome, and tend to get a lot of attention in the media. However, they are often misrepresented and misunderstood. AWSC is working to change that by providing shark education and outreach to school age children as well as the general public. Educating the community and engaging children in learning opportunities connects people to one of the keystone species in our ocean's ecosystem. Our programs not only help protect white sharks, they also provide information that helps people live harmoniously with nature."
You can shop this t-shirt and others here at AWSC.
cade's SAVE THE SHARKs - STOP FINNING WRISTBANDS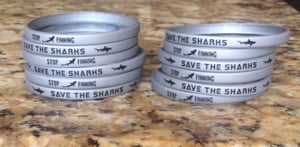 We became Instagram buddies with Cade before we even launched The Spicy Shark, and have been so impressed with his passion and work towards saving sharks at such a young age. It was so great getting to finally meet him in person at Shark-Con last year, and we know he's going to be a future leader in shark conservation. We hope to join him on one of his Florida shark dives soon! Here's what Cade had to say when we asked him to tell us more about his shark wristbands and his shark conservation work: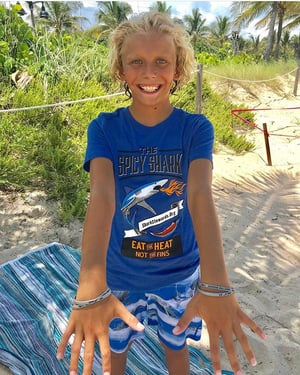 "This wristband was designed by me, Caden. I came up with this idea to help save sharks. I am donating ALL proceeds to organizations that help save sharks. You can purchase 1 or you can purchase bunches! It looks really good when you wear a whole bunch!
The bracelets are silver and grey, with black writing. They say SAVE THE SHARKS and STOP FINNING with little sharks on them. One size fits most!
The reason I want to save sharks is because millions of sharks are killed every year for their fins and meat. They are going extinct and if we do nothing about it there will be no sharks left. It will be so sad without them :( PLEASE help me to save sharks!!!!!!"
Shop Cade's wristbands here.
The Spicy Shark Gift Box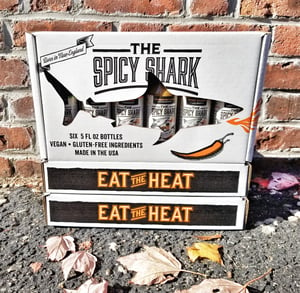 We've learned quickly that sharky people also tend to be some of the spiciest people! So we created a special SHARK gift box that includes one of each of our first 6 hot sauces:
Original – Habanero

Nurse Shark – Jalapeno

Thresher Shark – Chipotle

Caribbean Reef Shark – Scotch Bonnet

Tiger Shark – Ghost Pepper

Megalodon – Carolina Reaper.
They are placed in a super fun custom sharky box that will bring a Great White-Size smile to the face of the recipient. Here at The Spicy Shark, we are passionate about helping end the cruel, and unsustainable Shark-Fin Trade. We donate to our friends at The Shark Stewards and Fins Attached, and support numerous others.
Shop this shark gift box here.
gift ideas for shark enthusiasts
Just for fun, Click right here to see some of our favorite Shark Non-Profits and links to their website. Please check them out to see how you can get involved, or perhaps purchase some of their great fun items to help support their cause.
One of the greatest gifts you can give a friend, yourself, and the world, is awareness and positive action. It's nearly impossible to help sharks without also helping our oceans overall. That's why it's so important to learn about, and get involved with your local ocean conservation non-profit(s). Living in Portsmouth NH, we're big fans of Blue Ocean Society, and love supporting all the wonderful initiatives they do to help our NH Seacoast waters.
Together we can all make a difference, and have a lot of sharky fun along the way.