If you're addicted to mouth-screaming heat, chances are you're an adventurous eater. Lucky you, there are spicy concoctions from all around the world! Still, you might be inclined to keep your sweet and savory food lives separate. But we're here to say you don't have to live a double life!
Sweet and heat go together so well, it would be a culinary tragedy to keep them apart. That's what makes hot honey so incredible! Whether on your sweet/savory food or in your favorite drinks, Hot Honey is a taste revelation that will leave your mouth singing! Sounds crazy, except it's true!
How To Use Hot Honey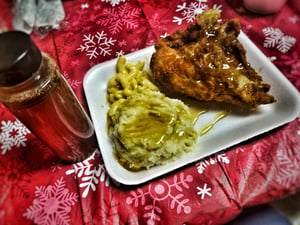 Hot honey has been wowing people like you and me for the last several years. Why? Because it unleashes the flavor of so many different foods! Hot honey usually features premium honey infused with various, hot flavorful chiles. You might wonder if it goes together, but if you've ever tried a spicy chutney or jelly, you get how it works. Only, hot honey is so much better.
One taste is all you need to get hooked, whether you're using it on a hot, baked dessert, breakfast, lunch, dinner, or anything really. Try it on eggs, yogurt, FRIED CHICKEN (pictured), ice cream, pizza, cheese, bread, ribs, chicken and your preferred meat, plus so much more. True story, hot honey initially became famous as a pizza condiment. So trying it on your favorite slice might be a good idea. Depending on the heat content, we recommend tasting a bit first before going all in!
Here are other opportunities for hot honey goodness:
Tortilla Chips
Cheesecake
Chicken and Waffles (in place of syrup)
Bacon Pancakes (We tested our Hot Honey on these pancakes in our super secret hot sauce lab. The verdict: It blew us away!)
This by no means is an exhaustive list. Test out for yourself what works. Seemingly unusual combinations can become deliciously explosive with some Hot Honey! And stay tuned to find out what makes our hot honey special :-).
Spice Up Your Beverages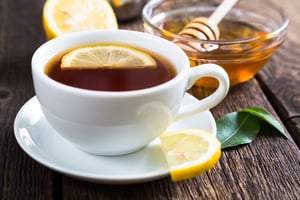 Hot Honey not only powers up your food's flavor several levels, but it transforms your drinks, too! If you already use a sweetener in your coffee, tea, or mixed drinks, adding a kick couldn't hurt, right? It adds a whole new dimension to your favorite beverages! And, if you don't usually add sweeteners due to health concerns, hot honey is the perfect compromise due to its health benefits. But more on that later!
You can add it to your latte for a creamy, kick in the pants (pictured). Our hot honey is steeped with a touch of cinnamon, which is the perfect compliment to a latte. Pro Tip: Subscribe to this blog to receive our future blog post with our Spicy Shark Coffee recipes and more. Even if you enjoy black coffee, you can't go wrong. Mmm hmm.
Imagine your favorite ginger or lemon tea with a shot of spicy honey. That sounds like an excellent and healthy palate-pleasing blend. It's easy to see why many newer beverages on the market are successfully combining these aromatic, acidic flavors with spicy chilies and sweetness.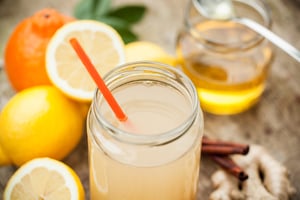 For fans of mixed drinks, it can change your favorite drink's complexion, morphing it into something fresh and exciting!
We dig our Hot Honey in a spicy margarita (pictured) but again, feel free to experiment!
Be sure to subscribe to this blog (top left button) to receive our next post with Spicy Shark Cocktail recipes.
Hot Honey is A Super Food Combination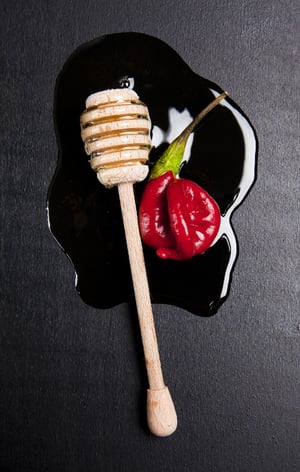 As you probably know, the chilies in hot honey have powerful health benefits. That capsaicin is a power house when it comes to healing and preventing illness. But, did you know honey also has many health-boosting properties? Sure, you might have heard a thing or two. The problem is, we are just scratching the surface of health properties of honey.
High quality, less processed honey, like the good stuff featured in our Hot Honey, is beneficial in many ways:
A healthier alternative to sugar
Contains high-quality antioxidants that can benefit your heart health (the darker the honey, the better)
Can help lower blood pressure
Can Improve cholesterol numbers
Can lower triglycerides
Promotes burn and wound healing
Just remember, stick to high-quality honey. There's nothing like two natural, health-giving ingredients coming together to reproduce taste bud ecstasy, time and time again. Check out our version to get all the taste and health benefits of chiles and honey!
Now that you've learned about Hot Honey's versatility, health benefits, and deliciousness, you gotta try some! It will do nothing less than blow your mind. The culinary possibilities are endless! You could totally use it on all your meals and not be disappointed. And we don't think that's a bad idea.
Especially if you're using our Hot Honey -- The Spicy Shark Original Hot Honey is a special blend of 100% pure USA Clover, Alfalfa, and Goldenrod Grade A Honey. We steep the honey with a touch of Cinnamon and infuse it with Habanero to add some heat to the sweet. One of the only of it's kind! Find out what all the buzzzzz is about here: